Tag:
activism
,
activist
,
alternative media
,
CNN
,
contamination
,
crisis.
,
Detroit
,
Dr. Mona Hanna-Attisha
,
EPA
,
exposed
,
Flint
,
free speech
,
Law Suit
,
Lead
,
Michael Moore
,
Michigan
,
political
,
Rick Snyder
,
RT
,
the truther.us
,
Usa
,
video
,
Water
,
What Happened
,
Who
The Flint, Michigan water crisis. 
In my experience as an investigative journalist I have found that sometimes the answers are right in front of your eyes, sometimes what is being hidden, as in the case of surveillance, intentional detention, and even things as disruptive as preemptive nuclear strikes against China, are written in plain sight. I have always had a knack for discovery, partly the reason why I think that I chose this profession, because it's adventurous and dangerous, and in almost the same way that great explorers discover hidden places on earth, it is our job as journalist to explore deeper into the unknowns of today's major events.
According to CNN and several other mainstream news out lets, the situation in Flint began when Michigan officials switched the water supply for flint from Lake Huron (which they were then paying the city of Detroit for), to the Flint River (which according to local residents was extremely polluted). The Flint river from decades of run off from several auto-manufacturing plants had an acidic quality that quickly started to breakdown the city's pipes and released dangerous levels of lead into the communities water. Lead is considered extremely toxic especially in the developing stages of life. Lead contamination at even the smallest levels can be hazardous to people's health.
---
---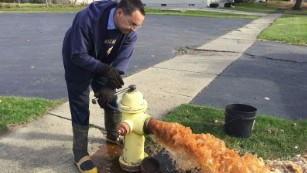 Before this morning we haven't had the chance to really dig into the toxic plume which is Flint, Michigan, but by this point it's obvious that this disaster has far-reaching implications. In case you somehow missed it, the drinking water in and around the city of flint has toxic levels of lead in it, with the metal showing up in residents' blood streams in very damaging levels.
---